Gene Flanagan, DDS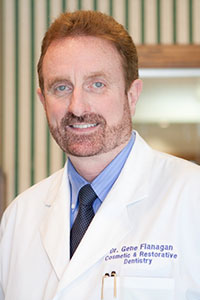 Experience
Dr. Gene Flanagan has been providing quality dental care, for over 30 years. Prior to opening his practice, the dentist engaged himself in educational pursuits (a trait he still continues to this day) leading to the fulfillment of his lifelong dream of becoming an extraordinary dentist. He completed his undergraduate studies at Texas Tech University in Lubbock, Texas, graduating with his Bachelor of Arts in Chemistry in 1978. While at Texas Tech, he was a charter member of the Tau Kappa Epsilon fraternity. After being accepted to all three of the top dental schools in Texas, Dr. Flanagan chose Baylor College of Dentistry (now called Texas A&M College of Dentistry) in Dallas, Texas, where he graduated in 1981. While at the university, he was a member of the Psi Omega dental fraternity.
Continuing education has always been a big part of his life. Dr. Flanagan continues his education monthly, and more frequently whenever possible. Much of his focus in his pursuit of excellence has been in areas that focus on the function of occlusion, advances in surgical procedures, comprehensive exams, treatment planning and functional esthetic excellence. He has completed a mini residency in dental implants and has over 100 hours training in orthodontics.
Dr. Flanagan is a proud alumnus of the prestigious Dawson Academy. Why go to a Dawson dentist? Dawson dentists are trained beyond your typical dentist. They are trained not only in how to keep your mouth biologically healthy, like how to best fill cavities, but also keep your mouth functionally healthy. (see video) Click for Video
When asked about his commitment to continuing education, Dr. Flanagan says, "The field is constantly making advances in treatment and technology. New research is connecting oral health to overall health. It is our obligation to be on top of any changes in the field of dental medicine, not only to better ourselves, but to be able to educate and treat our patients with the best possible care."
Dr. Flanagan is a member of the Texas Dental Association and the American Dental Association®. He also is a member of the Fort Worth District Dental Society and the Arlington Dental Study Club. Over the years, he has been awarded with the following honors:
America's Top Dentist 2016-2019
Guide to America's Top Dentist 2010 and 2012
Dentistry award for Best of Arlington 2015
Personal Life
Dr. Flanagan's father, a career officer in the US armed forces moved their family frequently throughout his early years. Dr. Flanagan's high school years landed him in El Paso, Texas, where his love of Texas took root. While at Texas Tech University in Lubbock, he met his wife, Angela. The pair got married while he attended dental school in Dallas, Texas. Together, Dr. Flanagan and his wife have a daughter named Katie.
In his free time, Dr. Flanagan enjoys reading, lifting weights, spending time with friends and family, and playing music. He plays the guitar, drums and piano. He enjoys giving back to his community through his church music ministry, as he plays guitar for his church choir. The doctor also enjoys donating his time at Mission Arlington's dental clinic, the St. Vincent de Paul Men's Club and the Arlington Sunrise Rotary Club where he is the 2019 blood drive chairman.
Meet Our Team
Our dental office in Arlington, Texas, was designed with you in mind. Dr. Gene Flanagan offers a wide variety of comprehensive dental services to help you improve your oral health. While working with our dentist and team, enjoy the spa-like amenities that are available to you, including Tempur-Pedic or heated massage chairs, essential oil diffusers and clean comfy blankets to keep you comfortable and relaxed throughout your procedure. Call our office at 817-468-8600 to schedule your appointment. Our dentist and team look forward to caring for you smile.
Angela Flanagan – Business Manager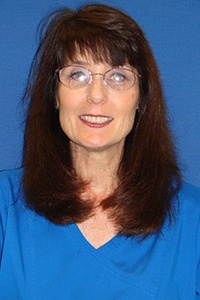 Having graduated with a Bachelor of Science in home and family life, and a collateral in business administration, sociology and psychology from Texas Tech University; Angela has been managing the practice since 1981.
Not only has she worked for international corporations, such as Dresser Industries and Trammel Crow, she has worked in most every aspect of the dental practice.
Today she still handles the financial aspects of running the practice, but likes to help out wherever she may be needed in the office, clinically or clerically.

Lucy Correa – Dental Assistant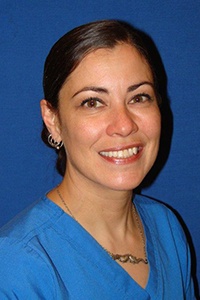 Originally from Fajardo, Puerto Rico, Lucy has made Texas her home since 1999. Being bilingual, Lucy not only assists, but is also an asset in translating for our Spanish speaking patients. She completed her training in San Angelo and has been a Texas registered dental assistant since 2000. In her spare time, she enjoys spending time with family and friends.

Keisha Smith – Dental Hygienist

Keisha is from the Dallas-Fort Worth area. She graduated from the Tyler Junior College dental hygiene program and has been practicing dental hygiene for over eight years. She is also certified in monitoring nitrous oxide.
Keisha enjoys teaching patients about proper oral hygiene techniques and the correlation between oral health and overall systemic health.

Tammy Staton – Patient/Treatment Manager

Tammy has been with Dr. Flanagan for over 30 years. She is knowledgeable in both clinical and administrative duties. Tammy has attended extensive continuing education courses with Dr. Flanagan, including implant placement and Dawson Academy. She is a registered dental assistant, as well as having her certification in nitrous oxide monitoring. Tammy has attended numerous seminars on insurance and dental treatment too.
Mission Statement
Our mission is to provide functional, aesthetically pleasing dentistry, utilizing state-of-the-art instruments, techniques and laboratory services that can provide our patients with superior, stable dental health.
We believe patients want treatment options, including the benefits of each dental service. Our goal is to deliver dental services in a genuinely caring atmosphere, in a facility that reflects our commitment to patient comfort, safety and overall health.
We want to develop and maintain long-term mutually beneficial relationships with our patients, enhancing all of our lives.
– Dr. Gene Flanagan and Team